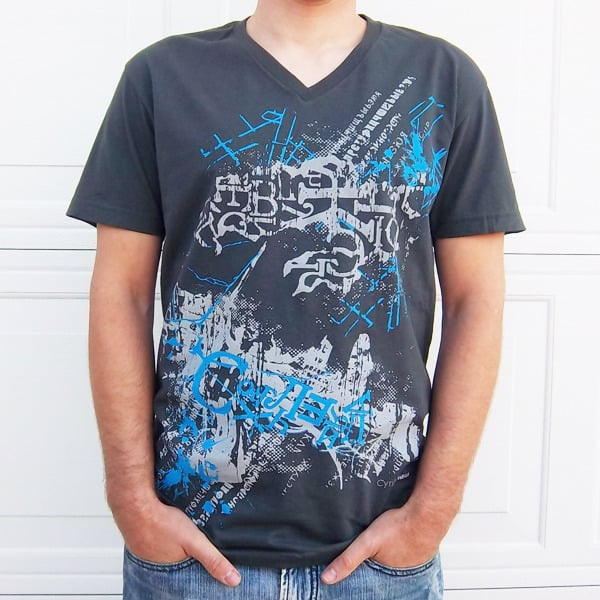 Man's T-shirt Cyrillic Wear Urban Russian Shirt CCCP USSR Ukrainian Gray 4
$

25.99
---
---
.text {
font-family: Tahoma, Geneva, sans-serif;
font-size: 12px;
}
.text red {
color: #F00;
}
Up for sale urban russian man's t-shirt by Cyrillic Wear featuring latest technology of dual-ink printing. Unique, urban, one of a kind design. Limited number of sizes available: S, M, L, XL
USA only: FREE shipping on first item, additional items only $2.99!
International Buyers: $12.99 first item + $6.99 any additional items.
Description:
Ultra Soft "Ringspun" Cotton V-Neck T-Shirt, With Contoured Fit, That Makes a Strong Fashion Statement. Coverstitched armhole and bottom hem. Plus, 3/4" set in coverstitching in the V-neckline. A Plain Basic Cheap Discount Blank Wholesale Quality Tee Shirt.
Brand: Cyrillic Wear
Weight: Light Weight 4.2 Ounce
Fabric: 100%-Cotton +Preshrunk +Ringspun +Combed
Cyrillic Wear Keywords (so you can find us):

russian t-shirt cccp russia cccp shirt cccp soviet cccp t shirts cccp tshirt cccp ussr cyrillic cyrillic alphabet cyrillic alphabets cyrillic alphebet cyrillic language cyrillic phonetics cyrillic phrases cyrillic russian alphabet cyrillic translate cyrillic words love phrases russian russia russia shirt russia soviet russia t shirt russia tshirt russia words russian russian alfabet russian lphebet russian cccp russian cryllic russian cyrilic russian cyrillic russian english cyrillic russian shirt shopping t-shirts, funny t-shrts, create t-shirts, ukrainian beer shirts, t-shirts online, ussr sport, t-shirts cccp, russian kgb logo, baltika t-shirt, ak 47 t-shirts, cccp soviet, russian t-shirts size small, proletarian t-shirt, best funny t-shirts, t shirts online, brigade rosse t-shirt, ukraine shirt, dynamo kiev, auto t-shirts, old miller russian beer, siberia t-shirt, vodka kalashnikov, russian hockey shirts, footbal kiev, army girlfriend t-shirts, t-shirt of dynamo kiev, t-shirt-old age, mclenin t-shirt, russian